FME Certified Professional Achievement
December 10, 2020
A member of the GIS4BUSINESS team has recently achieved certification from Safe Software as an FME Certified Professional.
The certification involves passing an examination and demonstrating recent training and experience though submission of documentation for recent projects that demonstrate FME best practice.
John Fannon, Technical Director at GIS4BUSINESS, who has obtained the accreditation said "I am delighted to achieve FME certification, which demonstrates advanced knowledge, expertise and experience in FME software. This will allow our customers to have confidence in our data translation and integration work with FME".
Over the past ten years, GIS4BUSINESS has undertaken many successful data translation, migration and integration projects for our customers using FME software, enabling them to make the most of their valuable data. GIS4BUSINESS also uses FME software extensively for internal spatial data processing, loading and verification tasks.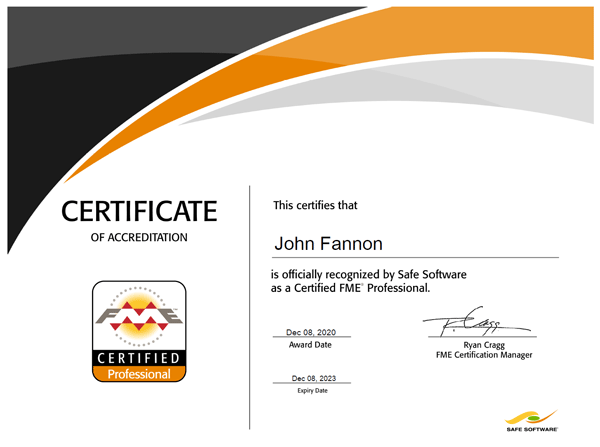 About FME
FME is an Extract Transform and Load (ETL) tool for spatial and non-spatial data developed by Safe Software. FME can read from, translate, and write to, a large range of data formats and can be used to build data translation and migration workflows, solving complex data integration problems.
Please feel free to get in touch with us about FME or your data translation and integration challenges.
About GIS4BUSINESS
GIS4BUSINESS are independent specialist mapping and geographic information consultants with over 15 years experience providing mapping and GIS services to a range of sectors in the UK and internationally. Our goal is to enable organisations to exploit geographic information to aid decision-making and improve efficiency.